This past Thursday I was blessed to see my 25th birthday. I'm actually posting Tuesday instead of Sunday because of my much needed recovery from the weekend. The actual day was pretty low key. Honestly, I never feel much difference on my birthdays in terms of my attitude or behavior. It felt like a regular day just mixed in with lots of love from my friends and family, which for me is what I enjoy most about birthdays. I went to the movies with a few friends and saw BlacKkKlansman, which was such a good movie but definitely had moments that made you uncomfortable–but then again that's the point. After the movie I came home to cupcakes and balloons that my roommate/sister got for me! It was so nice; she made me feel super special. AND she got me the best gift! I've been wanting to get an essential oil diffuser ever since I was introduced to them by another one of my good friends. There are different combinations of scents you can use for aromatherapy. I'm super excited to learn more and experiment more with it.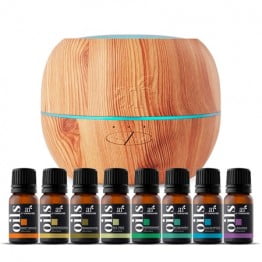 I formally celebrated my birthday on Saturday. I had a small party in Atlanta with both my college and medical school friends. One of my good friends from high school even came up from Miami to celebrate with me. It was the first time that many of them met each other, and it made me so happy because everyone instantly got along! I have such amazing (and weird haha) friends, but they've always been in their separate circles. So seeing that merge was awesome. We're all young professionals in some capacity, so we're about our business but know when to take the professional hat off and let loose with no judgement. There was so much positive energy in the building. The theme was "making memories" so I had people bring pictures of us from the past and had a polaroid camera to take pictures in the moment. The pictures were so good! I knew that I wanted to have something tangible to remember this birthday and those were perfect. I'm going to put them all in an album and cherish them. This time next year, I'll be in residency God knows where and won't have the chance to celebrate like this again. I definitely don't plan on getting that lit again for a WHILE; my body doesn't bounce back like it used to! But everyone had a blast!
The next day the celebration continued with Beyonce and Jay-Z's On the Run concert in Atlanta! If you've never seen Beyonce in concert, I would HIGHLY recommend it! She is one of the few artists I feel is worth paying the money to see (and I am very cheap). She doesn't only sing, she gives you everything from dance to live instruments to gorgeous outfits. You feel like you're watching a beautiful movie or something. It's just fantastic. This is the second time I've seen her in concert and I would pay to see her again. I would say that I prefer to see her perform alone. I feel like since Jay-Z isn't as talented as she is in terms of performing, the songs they did together weren't as theatrical as the ones she did alone. Either way, the show was amazeballs!
My roommate and I drove back to Augusta straight after the concert and we didn't get back until after 3am. I drove while she slept in the car because she had to be a work by 6a. Longest drive ever. Thanking God we got back safely! I didn't have to go in to work until 8am. Either way, we were both struggling–but we already knew it would be like that and just had to mentally prepare. The weekend was worth it though honestly. I had so much fun! I needed that time to just let loose.
Next week ERAS opens up to begin letting us apply to our various residency programs–ahhh! I keep saying I can't believe I'm at this point in life. Time has flown by. I'm solidifying all my application materials in these coming weeks and looking forward to the start of interview season. Since I'm doing family medicine, our season starts pretty early, and you basically get interviews at whatever program you apply to as long as you meet some basic criteria. It's just not as competitive as other specialties in that regard. I'm currently planning to apply to 14 programs and may or may not take all my interviews, we'll see!
Lastly, if you're a loyal reader, you may remember that I surprised my mom with a trip for her birthday! Well that trip is next weekend (Labor day weekend). We're both August babies and celebrated milestone birthday's this year (I consider 25 a milestone), so we're going to Hilton Head Island, SC for a weekend of relaxation and sightseeing. I have a full itinerary planned out for us, including a spa day; I'm so excited to get some mother-daughter time! This weekend will be the complete opposite of this past weekend I just had. Gotta have that balance guys.
---
Here's to turning 25!
Enjoy the rest of your week 🙂